Heidi Phan-Peterson
Executive Director – Salute Colorado
Secretary & Treasurer – Salute Colorado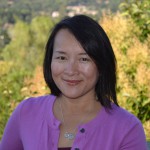 Most of Heidi's professional career has been spent in the private sector, where, early on, she spent several years as an analyst in the commercial real estate sector. After receiving her MBA from UC Berkeley's Haas School of Business in 2000, Heidi went to work at the Internet startup ZipRealty in Emeryville, CA, where she met and worked for Lane in Business Development. The latter portion of Heidi's 10-year tenure at ZipRealty was spent as Director of Market Research, focused on improving the consumer real estate experience. Heidi capped her time in residential real estate with a year as a Realtor® with Marin Modern Real Estate in Marin County, CA.
Excited to try something new, when it presented itself, Heidi welcomed the opportunity to develop the nonprofit to support veterans that has become Salute Colorado.
As a civilian and parent, Heidi is grateful for the service of this country's esteemed veterans. She has enjoyed launching Salute Colorado and supporting this important sector of the U.S. population during their critical process of change and transition.