" Feeling valued for what I have the potential to achieve and being allowed to explore what that is in my time and my way ".
– program participant stating what he values in our mentor program
Salute Colorado hosts a 2-year program during which veteran-participants, who we call Associates, are supported by a Mentor, given access to a network of business professionals and benefit from peer support to help them network and navigate their pursuit of post-service professional objectives in the real estate or technology career fields.
Key Program Elements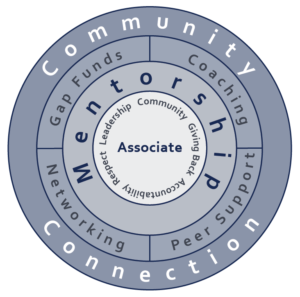 Mentorship:

Ours is a personalized approach, and the mentoring program is at the crux. Associates are matched with a mentor shortly after they join our program. In terms of recruiting mentors, we focus on identifying professionals in our veterans' chosen fields who are, themselves, veterans, or who have had significant experience working with veterans and/or veteran issues. We further look for compatibility of interests and personality.

Mentors and Associates meet at least once a month.

Networking:

We offer opportunities to network one-on-one or in group settings with professionals in your field.

Networking opportunities are varied in their frequency, with social gathering scheduled several times a year and individual meetings, by request or invitation.

Gap Funds:

Associates have access to monies through our Gap Funds program, by application, to use toward career-advancing pursuits such as professional certifications, training, industry conferences, etc.

Associates can apply for Gap Funds at anytime during their time in our program. Use of funds must be approved and granted by our Gap Funds committee.

Community Engagement:

Once a year, Associates are asked to participate in an activity that engages the general public, as a means to bridging a connection between civilian and service community members through education. Examples of community engagement activities are writing published articles or speaking to an audience whereby the Associates share about an aspect of his/her life as a service person or veteran.

Each Associate is asked to perform one community engagement per year in our program.

Other resources:

In addition, Associates have networking opportunities with seasoned professionals, access to career coaching and benefits from peer support.